Sellers -

Expand your online business! Start receiving email leads TODAY!

COMPLETELY FREE!


Members - NO MORE CALLING JUNKYARDS! NO MORE ENDLESS SEARCHES ON THE INTERNET! NO MORE HIGH PRICES!

About us --->
Almost every Jeep web site or magazine claims to have the "guaranteed lowest price" for a jeep part or accessory. Well, obviously only one web site or magazine can truly offer the "guaranteed lowest price." We take the guessing out of finding the best price, not to mention saving you time hunting down the best deal. JRequest's service allows you to send one Part's Request to hundreds of Sellers stocking jeep parts. YOU decide who is offering the best price and YOU get the best bargain. You simply fill out the form at the "Request a Jeep Part" page and your message is instantly emailed to all the Sellers that stock the part you seek. As soon as the Sellers check their email, they will notify you of their availability. The bottom line is, you really do get the "guaranteed lowest price!"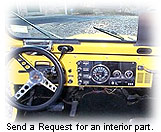 We created JRequest to allow Jeep® enthusiasts to request a new Jeep part or used Jeep part and have that part request emailed to several Sellers or even several hundred Sellers that carry the part! There are a lot of hard to find parts out there. Who wants to pay top dollar or wait around for somebody to get back to you?
By requesting a part through our web site, your request will be emailed to the Sellers that stock the part you seek. Don't waste time waiting for people to email or call you back. Simply sign up today and start requesting the jeep parts you need! There is NO FEE whatsoever to be a Member or Seller.
REQUEST USED, OLD & NEW PARTS! REQUEST ACCESSORIES TOO!
VIEW JEEP PARTS MEMBERS REQUESTED.